Attorney Kevin Madison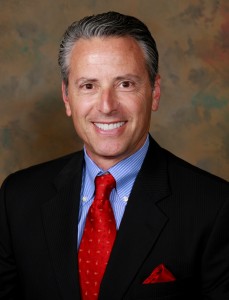 Kevin Madison (click here for CV) has a unique background from most other attorneys who represent victims of sexual harassment and sexual exploitation.  Mr. Madison is a former Police Chief who investigated sexual assaults and criminal sexual harassment cases. Employers who sexually harass their employees are sexual predators. Doctors and therapists who molest their patients are sexual predators. Their mindset is exactly the same as a rapist. The only difference between a rapist and an employer who continually gropes his employee is the degree of the sexual assault.
When hiring an attorney to represent you in a sex crime case, you want someone who has experience in the civil justice courtroom but who also understands how to investigate criminals who prey on others to satisfy their needs for sexual gratification or exert power and control over others. Most attorneys who represent victims of sexual harassment, sexual abuse, and sexual exploitation cases may be capable in the civil courtroom. However, most attorneys are not trained, and do not have experience, in investigating and catching criminals.
Mr. Madison's background and experience as a police officer, prosecutor, state magistrate, and litigation attorney blends criminal prosecution skills with civil prosecution skills. In order to win in court you need "evidence" to prove your allegations of sexual harassment or unwelcome physical contact by your employer. This is where years of criminal law enforcement experience can make the difference between making an "allegation" of sexual harassment and "proving" sexual harassment in a court of law.
Kevin Madison's experience includes:
Former Texas Police Officer with "Advanced" certification by Texas Commission on Law Enforcement Standards and Education
Former Chief of Police of Smithville in Bastrop County, Texas
Former Criminal Investigator
Martindale-Hubbell Legal Directory's Highest Rating Award of "AV" for Ethics and Competence
Trained Victim Advocate by Texas Association Against Sexual Assault (TAASA)
Former Assistant District Attorney of Travis County, Texas
Over 27 years of experience as a State Magistrate
Over 32 years of experience as a Civil Court Litigation Attorney
Security Supervisor of Dobie Center – 800 person 27 story private student residential tower with two level shopping mall and parking garage
State certified Emergency Medical Technician with Advanced Lifesaving Skills
My law practice concentrates in the areas of sexual harassment, sexual exploitation by doctors and therapists who molest their patients, sexual abuse, rape, date rape, and sexual assault. These cases include victims of physical assault, sexual assault, serious sexual harassment by employers or high-level management, involving lewd conduct, repeated vile, lewd, and sexually inappropriate language and/or, improper touching.
I work tirelessly for my clients. I treat my clients the way I expect to be treated by other professionals: with care, compassion, honesty, and competence. This commitment to excellence and compassion is why many of my clients refer their friends, co-workers, and family members to me. All of my cases are based on a contingency fee basis, which means that I am paid a percentage of any gross amount recovered for you. My fee is "contingent" (solely based) upon my obtaining a recovery for you. If I do not win your case or obtain a money recovery for you, you don't owe me a penny for my time or my out-of-pocket costs. There are no retainer fees or hourly fees.
There are no upfront costs and no hourly fees. If I do not obtain a recovery for you, you don't pay me anything for my time and you don't reimburse me for my out-of-pocket costs. If I can be of service to you or your family, please call for a FREE consultation.
My 25+ years on the bench as a judge and state magistrate give me additional experience and practical knowledge that help me try Personal Injury and Intentional Injury cases in the courtroom.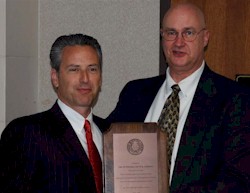 June 12, 2009 – Texas Municipal Courts Association presented Kevin with the 2009 Municipal Outstanding Judge of the Year award! There are over 900 municipal courts in Texas, with more than 1500 municipal judges, so this was quite an honor! Kevin stated, "I try to give 110% toward my judicial duties in my municipal courts. Some of my traffic safety programs arebeing copied and used by other municipal courts in Texas – such as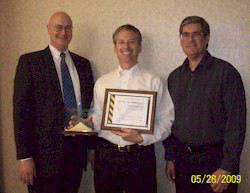 the "Report Unsafe Driving" bumper sticker program and our Teen Driving Contract. If we save just one life, it is all worth it!"
Kevin received the 2009 Traffic Safety Initiative Exemplary Award at the 2009 Traffic Safety Initiatives Conference in Austin on May 28, 2009. This award is given jointly by the Texas Department of Transportation (TxDOT) and the Texas Municipal Courts Education Center(TMCEC). Kevin received this award in 2008, too.
About Shirley Madison, R.N., Nurse Legal Assistant
After graduating from high school, Shirley Madison enlisted in the US Army and proudly served for 6 years as a Dental Specialist. Upon receiving an Honorable Discharge, Shirley entered college to pursue a nursing career.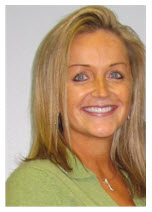 Shirley has been a licensed Registered Nurse for 24 years. She had a specialization in Rehabilitation Nursing, working with traumatic brain injury and traumatic spinal cord injury patients. In 1990, Shirley was awarded "Nurse of the Year" for St. David's Rehabilitation Center.
Shirley understands, firsthand, the trauma that crime victims suffer. Her mother was a victim of domestic violence which ended in a homicide-suicide. As young children, Shirley, her four siblings, and their little Dachshund, witnessed their father murder their mother. This personal tragedy reinforces her desire to assist other victims of domestic violence, physical assaults, sexual assault, and sexual exploitation. Shirley assists her husband, Kevin, on all assault, sexual assault, sexual harassment cases, and personal injury cases with catastrophic injuries.
Kevin and Shirley Madison intensely believe in treating all people with the utmost respect and dignity, regardless of race, religious belief, socio-economic status, or sexual orientation.
For more information about our services, or to speak with an experienced lawyer, please contact The Law Offices of Kevin R. Madison, P.C. at (512) 708-1650 for your FREE and confidential consultation. We have an experienced RN (Registered Nurse) on staff.